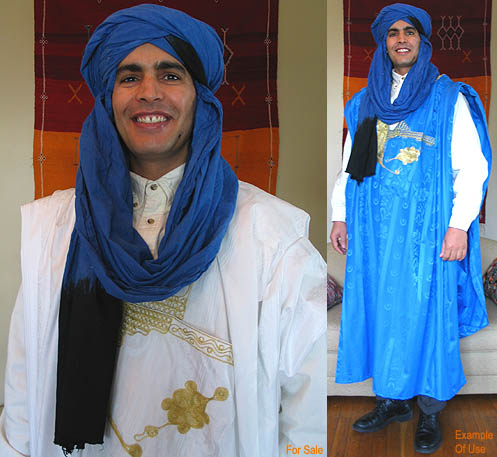 Sahara Blue Turban $5.00 OFF
Color available:
- Blue with dark blue end as seen on picture. Only 1 left!!
- Light sky blue with dark blue ends, (blue is lighter than what is seen on picture). Same style but instead of deep blue we have it in light sky blue.
Regular $40. Save $5 now!!
This Saharan turban is traditional and is a very practical head dress that men use for many purposes. Men in the Sahara Desert would use this turban to protect them selves from the wind, from the dust, from the cold during those harsh dry cold winter days and also against the pounding heat. While in the hot Sahara Desert, using a turban helps keep the moist between the skin and the fabric. This way, the skin is protected and at the same time the body doesn't loose too much water. In addition to what's mentioned, men in the Sahara, especially among the Kel Tamashek people also called "Touareg" would wear a turban like this and cover their faces except the eyes even when they need to eat or drink. You would wonder why they would put them selves through this, but it is a cultural practice to show respect to the others especially the elders in the community.
Good thing about this turban is that you don't need to steam nor iron it. You want to twist the turban so that it is not flat. This makes it easy to put on and allows it to look good! This turban was pre-washed twice in a regular washer and was safely put in a dryer. Wash and dry separate from other clothes.
Material: Cotton
Size: around 13.9 feet L X 2 ½ feet W

Care: cold wash separately and dry separately. Washer and dryer safe.
click here for video
If you order to be shipped to and address outside of the USA, international Shipping/H is not included and your order will be adjusted from domestic to international and charged to your card.

Quantity Available: 9
Price: $39.00