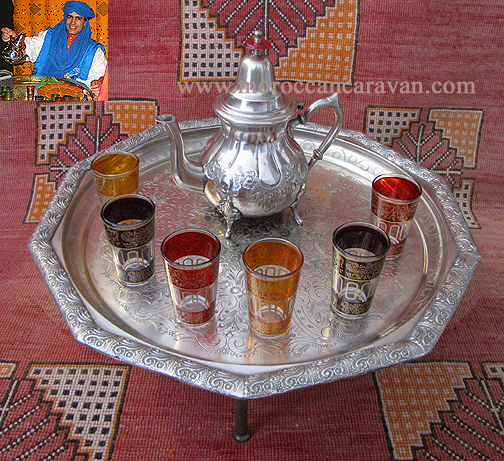 Authentic Moroccan silver tea set Two
Value of over $400.00
Maybe you saw this kind of lower seating Moroccan tea set on "Sex & the City"!
Excellent set for your tea ceremony with family and friends. The set includes one vintage silver plated teapot, 6 tea glasses and a vintage silver tea tray (20" Diameter) that stands on three legs (approx 5-6" High). The glasses come in the colors featured in the picture: 2 blue, 2 red and 2 burnt orange. Drinking tea is healthy! Plus it is so much fun to share with your family and friends. Light up some warm and welcoming lights, such as Moroccan henna lamps and or lanterns with candles, and let the spirits dance!
Care tips:
Teapot & Tray: Wash with cold or warm water and Wright's Silver Cream or other silver polish product found in any hardware store.
Tea glasses: Wash with just water and soap. If tea dries in your glasses, soak them first and hand wash. NO dish washer and NO scrubbing.
Also think about one of our carpets and some pillows to create a nice warm seating area!
Check out our culture & recipes page for a free Moroccan mint tea recipe.
Shipping cost will be adjusted accordingly after we receive your order and before we charge it.
One of a kind!

Quantity Available: 0
Price: $299.00